Get Your Message to Radio Professionals
Never in radio history have we seen the level of sweeping changes that continue to dominate our industry. Still, probably the best thing we have going is that we are an industry of opportunity. One closed doorway leads to another abundant with options. The trick to winning is staying on top of it all. Knowledge is power, right? That's where RADIO|ONLINE comes in.
A leading industry trade publication for over 30 years, RADIO|ONLINE delivers radio's CEOs, VPs, General Managers, Program Directors, Sales Managers, Promotion & Marketing Directors and Air Personalities. If this is your target market, R|O is the ideal publication to advertise your products and services with our self-serve advertising service. It's simple to use. Purchase, then upload your ads in the .png, .jpg or .gif format.
RADIO|ONLINE consistently ranks in the top 40,000 websites in the U.S., according to certified metrics from Alexa. Users spend an average of 6 minutes daily with an average of four page views generating over 71,000 unique visitors each month -- with small bounce rates and great engagement.
We offer a self-serve advertising service. It's simple to use. Make your purchase, then upload display ads in the .png, .jpg or .gif format.
The advertising package includes three display sizes (as seen below):
Leaderboard ads (620x80) for our website and newsletters
Box ads (280x130) for our website and mobile pages
Panel ads (170x75) for our newsletters
Your purchase includes all three sizes -- which are live simultaneously and generate a minimum of 88,000 displays to RADIO|ONLINE's 71,000+ unique visitors each month.
Advertising on RADIO|ONLINE can help your company:
Expose Radio Stations to Your Product
Build Webinar Attendance
Expand Website Traffic
Boost Syndicated Programming and New Affiliates
Build Newsletter Readers and Subscriptions
Expand a blog's reach into radio
Keep Your Name in Front of Radio
Special Bonus Discount for the month of December: Our lowest offer ever. Subscribe monthly for $59 per month. That's a whopping 40% off our normal rate. Run one month or 12 months. Cancel anytime. Use promo code DAC59 to redeem this offer.
620x80 sample

280x130 sample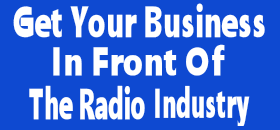 170x75 sample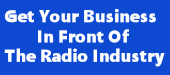 Using R|O's Ad Control Panel, you can upload change or replace your produced display ads at anytime. And with this package, you have no obligations or spending requirements. Start, stop, expand and adjust your ad program as you like.
Convinced? We've made it easy to purchase and maintain your advertising online. Click here to setup your account and start building your web traffic and client base today.
Notice: RADIO|ONLINE reserves the right to refuse to run any ad in which we consider to be offensive or not of interest to our readers, visitors, subscribers or members of the commercial broadcast radio industry.
*Monthly billing available to qualified companies.